Exploring Inthanon National Park, Thailand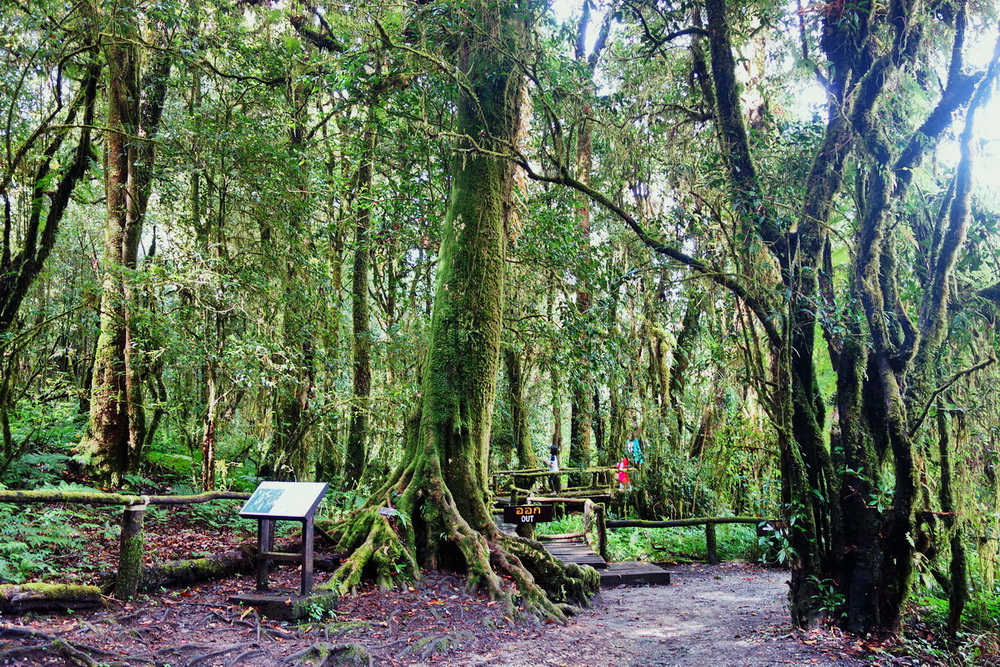 Inthanon National Park is Thailand's highest peak, and the cool weather attracts many tourists to the park in Chom Thong district at this time of year.
Inthanon National Park covers an area of 48,240 ha. Its lowlands below 800 meters in elevation are warm and very dry during the rain-free season, but the summit of Doi Inthanon, at 2565 meters. The temperature has been known to drop as low as -8 degrees C. and frosts are not unusual during the cool, dry season. January is the coldest month: an average nighttime temperature is 5.5 degrees C. At any season, Doi Inthanon National Park is a comfortable reprieve from the heat of the lowlands. At altitudes above 1000 meters, rainfall exceeds 2500 mm, considerably more than at nearby Chiang Mai. Even in the dry season, November to April, there is rare but occasional rain or the summit may be shrouded in cloud for a part of the day; persistent mist is an important factor in the maintenance of moist forest there.
The flora consists of sphagnum bog, moist and dense evergreen cloud forest, dry evergreen, pine, mixed deciduous teak and dipterocarp forests.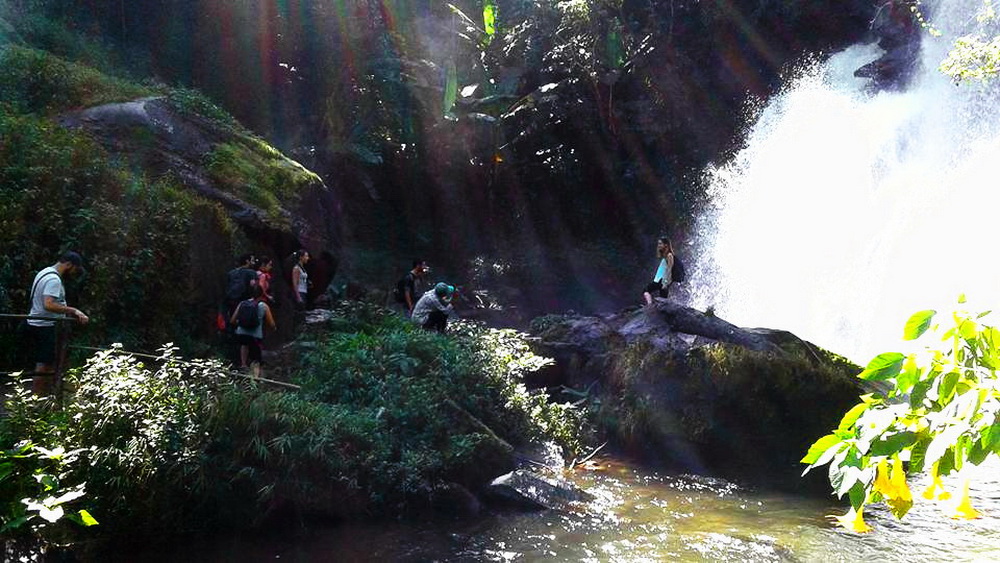 The Center for Wildlife Research at Mahidol University has recorded total of 362 bird species in the park which makes it in numbers the second highest in Thailand after Kaeng Krachan National Park. Over 190 of the bird species are listed as common to abundant. Some common birds seen in the national park are green-tailed sunbird, ashy-throated warbler, green/purple cochoa, sikkim treecreeper, maroon oriole, bar-throated minla, green-tailed sunbird, rufous-winged fulvetta, chestnut-crowned laughingth rush and speckled wood pigeons. The big bird migration to Thailand happens March to May with some birds still breeding until June/July makes it a good time to visit the park for birds.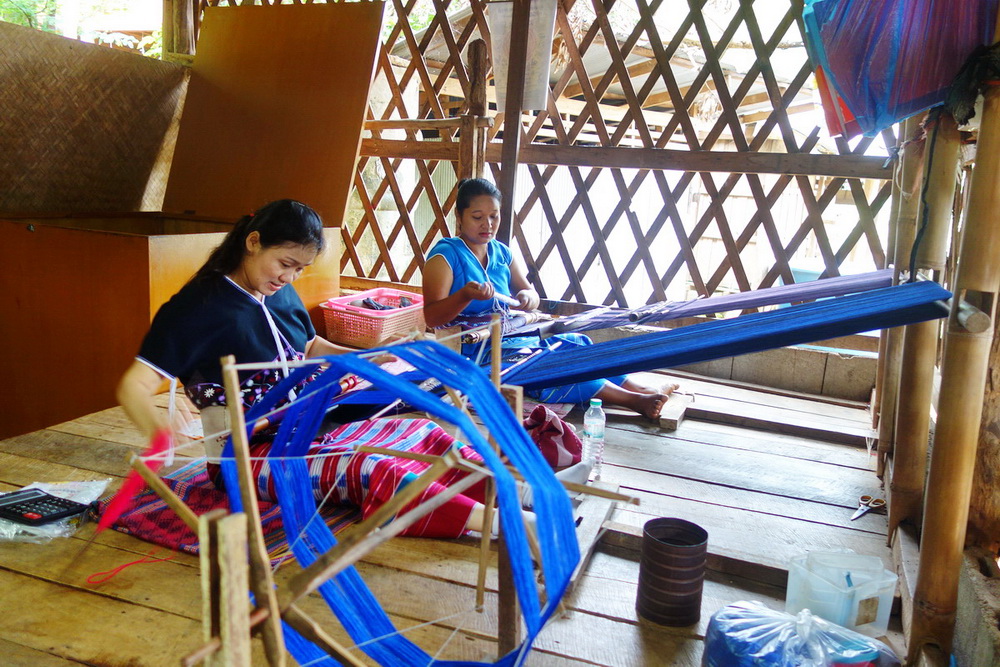 Due to hunting and habitat change bigger mammals such as elephants, tigers, gaurs has been extirpated from the park. Some mammals such as wild boars, gibbons, deer and serows still inhabits the park. There are currently around 65 mammals in the national park, half of these bat species.
Attractions of Inthanon National Park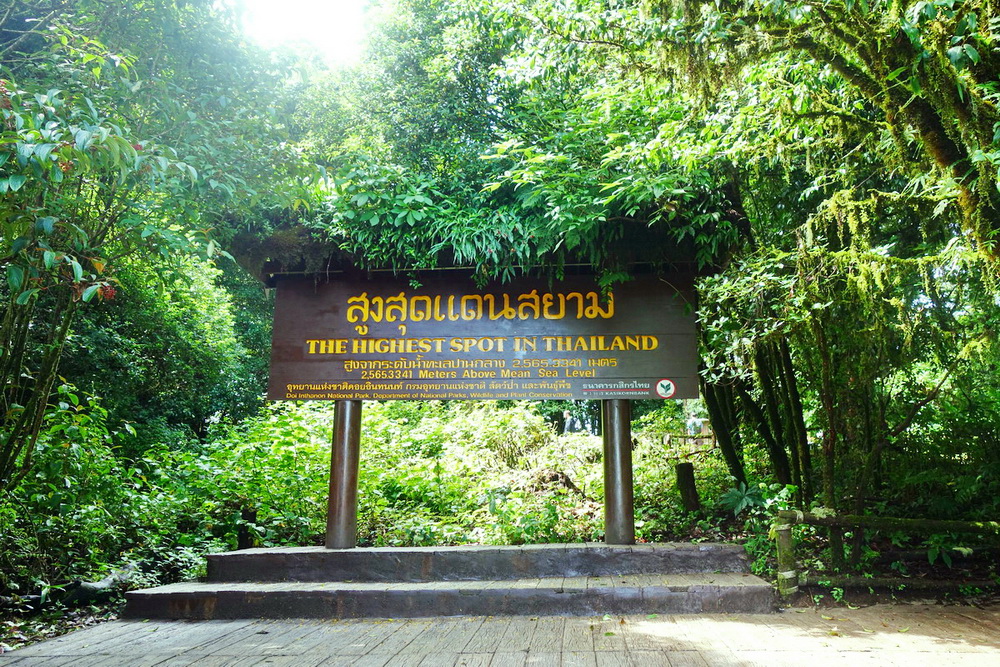 Summit of Doi Inthanon
Located at km 48 at the end of road 1009, with 2565 meters above the sea level it is the highest peak in Thailand. An air force radar station and King Inthawichayanon's stupa are on the mountaintop. King Inthawichayanon, the last king of Chiang Mai, was concerned about the importance of forests and wanted to preserve the forests for future generations.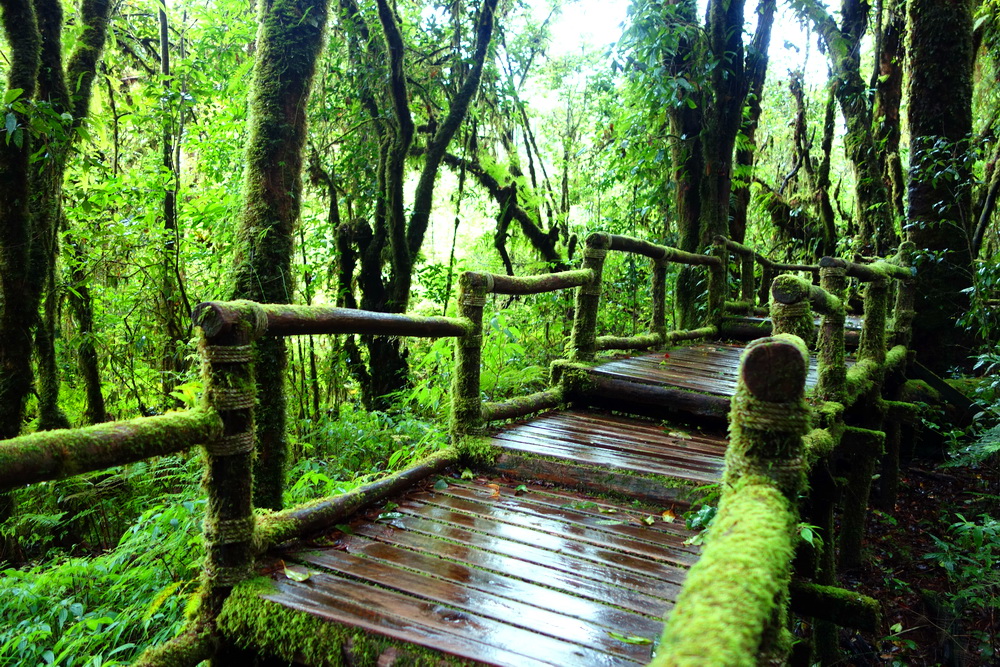 Ang Ka Luang
There is a shorter nature trail opposit the ranger station on the main road to a sphagnum bog, a good location for birdwatching of some exciting highland birds.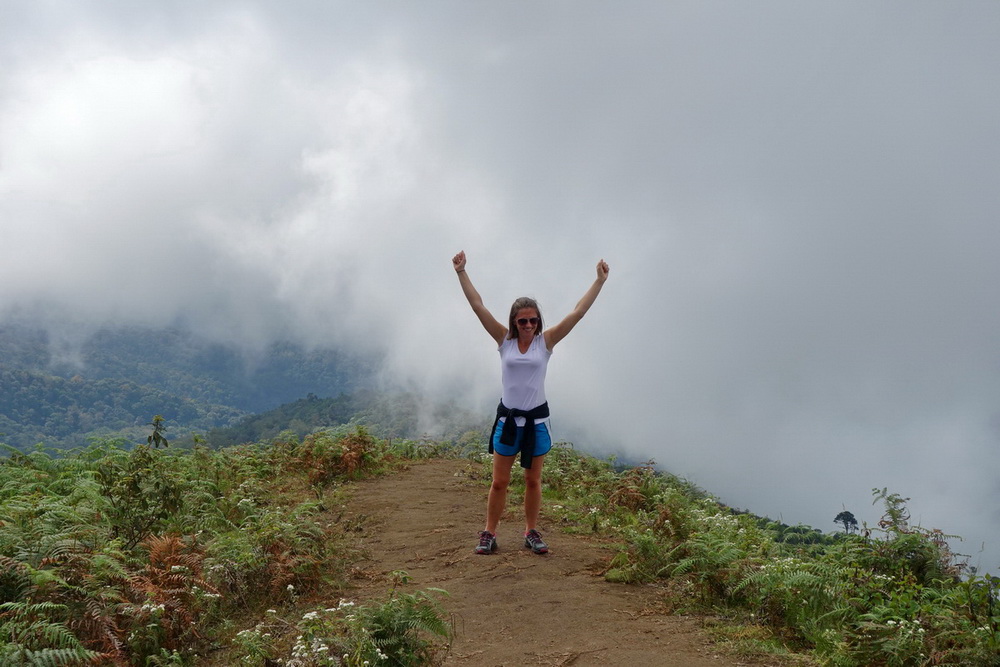 Kiew Mae Pan Nature Trail
Kiew Mae Pan Nature Trail (Starts at km42). This short trail, winding through pristine forest for about 2.5 km, allows the hiker to experience the natural beauty of the forest at first hand. Rhododendrons, commonly found in the Himalayas, are found along the trail and they are in full bloom from Dec-Feb. Trekkers on this route should seek permission from the park headquarters at km31 for safety reasons. A group of not more than 15 people is recommended. Food consumption is not allowed while trekking. This nature trail is closed for reforestation from 1 Jun-30 Oct.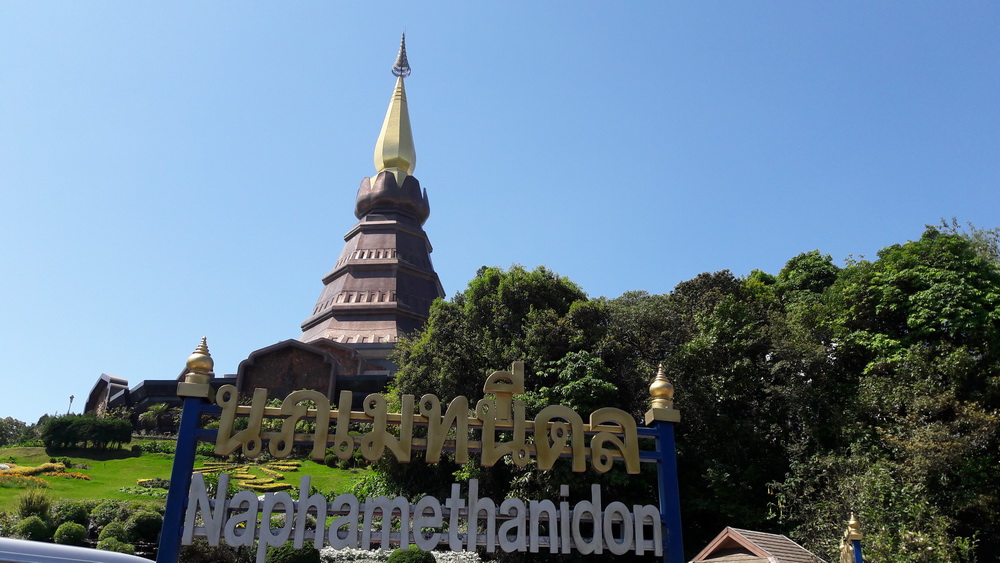 King and Queen Pagoda
Doi Inthanon National Park is a popular destination for visitors to the region, not only for its natural beauty, but for its historical significance as well. Chedis (monuments) dedicated to Their Royal Majesties, The King and Queen, can be found atop the peak of the mountain. The park has been adapted somewhat to accommodate the tourist trade and there are some eating and drinking areas, as well as accommodation. The rugged terrain is now crisscrossed with pathways and roads to make it more accessible to visitors. The development has been tightly controlled, however, and every effort has been made to preserve the natural beauty of the environment.
Campsite and Park Headquarters
If you want to stay overnight at Doi Inthanon there are several options available. Campsites are Iocated at the Headquarters area and at the Mae Pan Ranger Station. Two-person tents can be rented at Headquarters. No sleeping bags or mats are available, but a number of blankets are available for rental. Firewood is provided and campfires are permitted throughout the year. Please use caution during the dry season.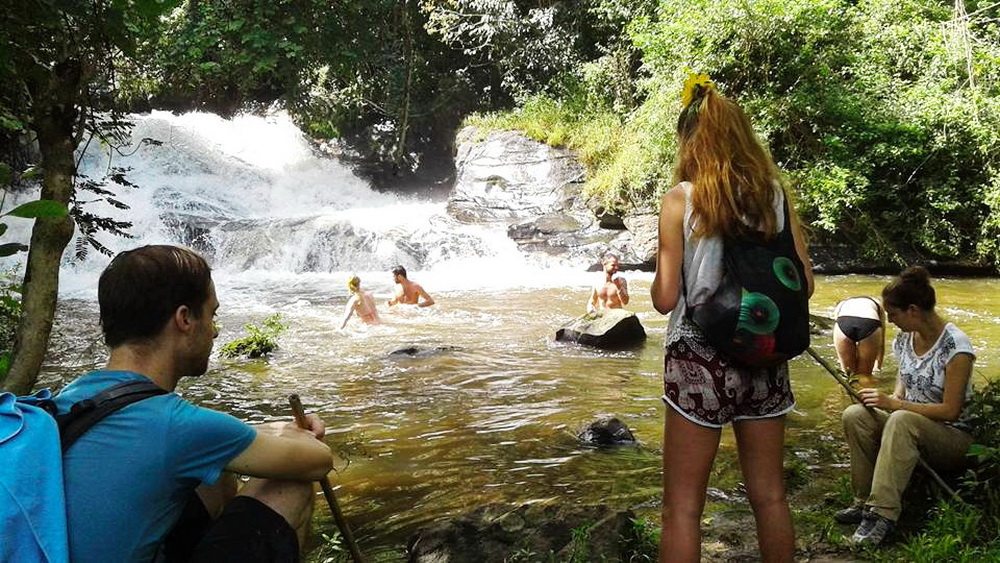 Trek at Inthanon National park
For those keen on trekking Doi Inthanon is a paradise, with four striking nature trails to explore. Nature trails are a great way to experience the fantastic scenery of Doi Inthanon up close and personal. Doi Inthanon nature trails take a few hours to walk and maps and guides are available at the ranger station.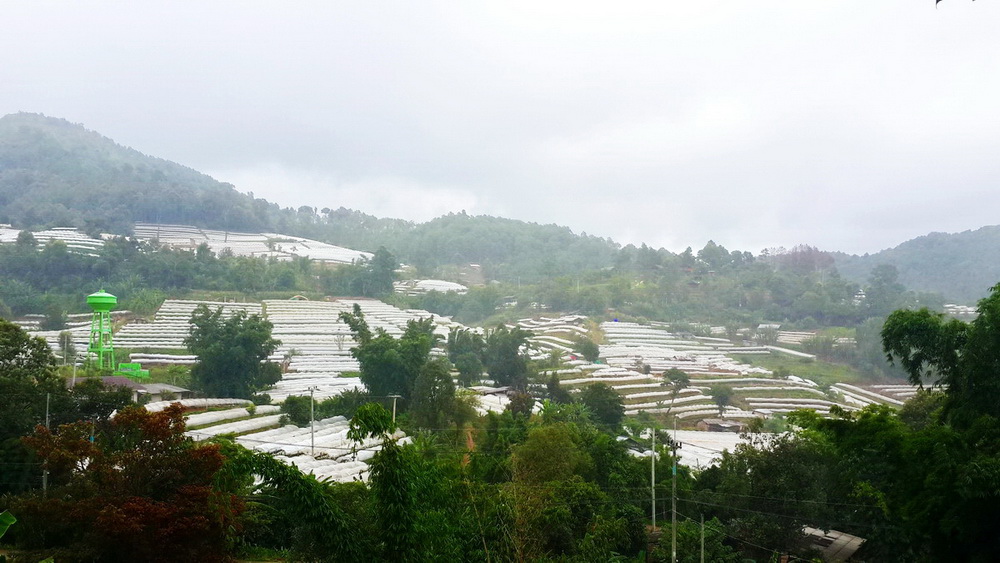 Royal Agricultural Research Station
Doi Inthanon Royal Project is in Khun Klang village close to the park headquarters. The project was initiated in 1979 to help the hill tribes to cultivate cash crops other than opium and train them on modern agricultural practices.  Most produces are temperate zone plants.  Flower plantations, a plant breeding research lab and flower plantations of hill tribes (Hmong) are open to visitors.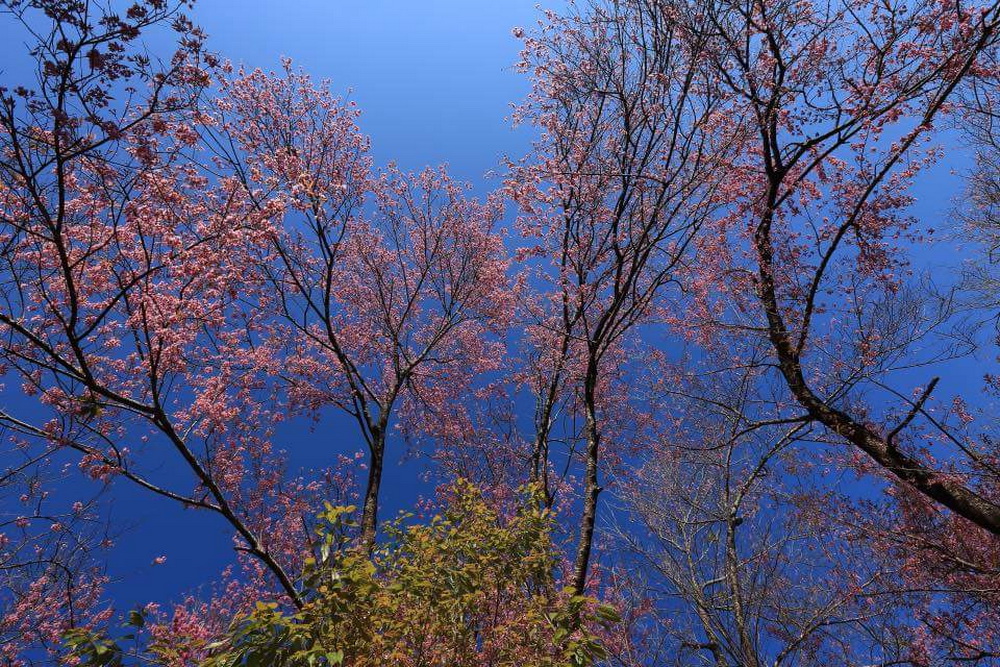 Khun Wang royal project
From Inthanon Station there is a path linking to Khun Wang Royal Project Center, which is famous for the planting of chrysanthemum in different colors,in bloom the whole year round. Visitors are also afforded the views of vegetable plots,flowering plant plots in glasshouses,pot plants, temperate-zone fruit trees,and Chinese tea plantations upon which the harvesting process is demonstrated. It is the hot place to be in the winter, as the cherry trees burst into bloom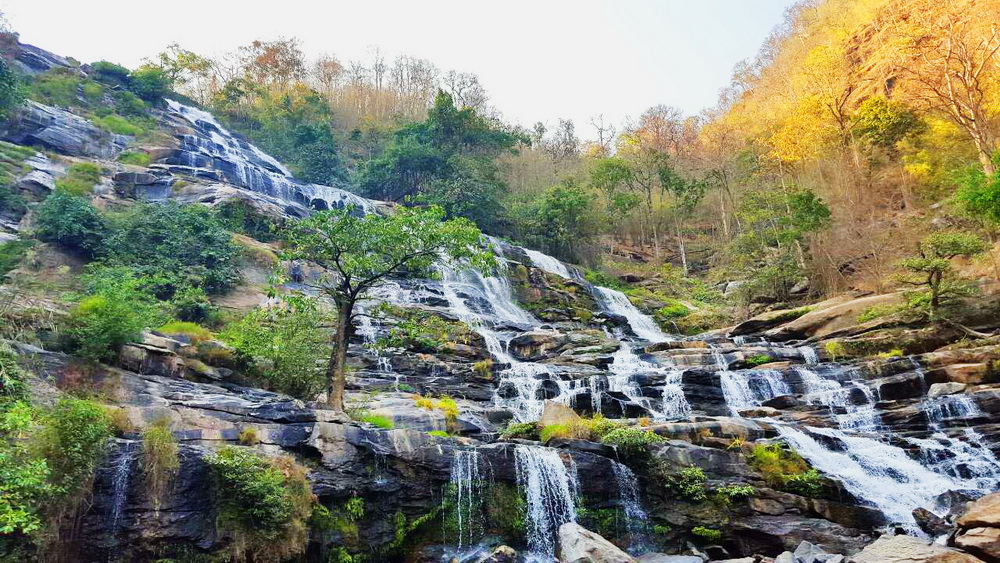 Mae Ya Waterfall
Namtok Mae Ya is one of the most beautiful cascades in Chiang Mai. A cascading waterfall plunging from several tiers over 250 meters steep cliff onto different rock formations in a lower basin, creating a beautiful scene., but the main tier that tourists see once they get there is a 40 to 50 meters high. This nearly 100 meters wide tier has quite an impressive view.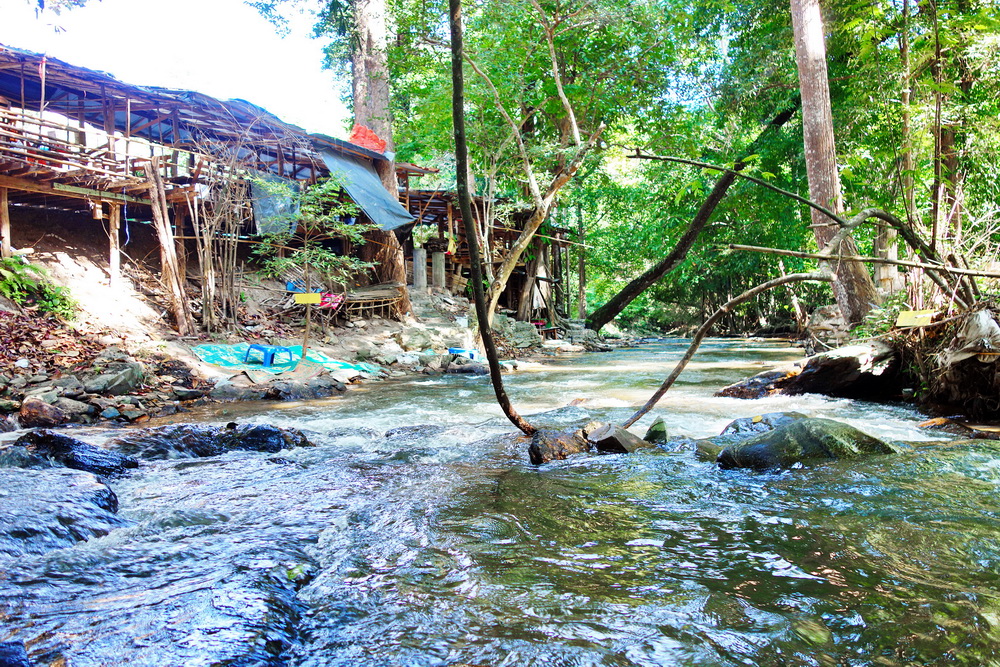 Mae Klang Waterfall
Only 8km from the town of Chom Tong and just within the boundaries of Doi Inthanon national park. This impressive waterfall is very popular with Thai picnickers and is great place to take a dip in the cool cascading waters. On the weekends expect to see plenty of Thai families enjoying a picnic near this scenic point.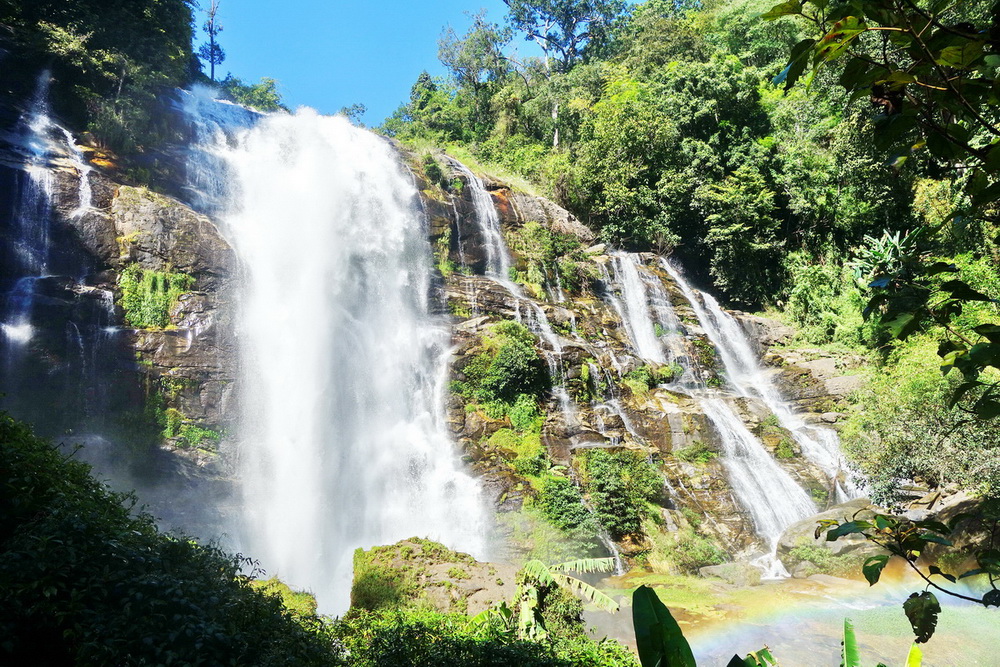 Vachiritharn Waterfall
Namtok Wachirathan is a large waterfall Namtok Siriphum is a splendid waterfall that falls from a steep cliff in two lines and can be seen en route to Doi Inthanon.  The attractive waterfall is located at Km. 31 of Highway No. 1009, take a right turn for 2 kilometres and is approachable only on foot from the base of the waterfall.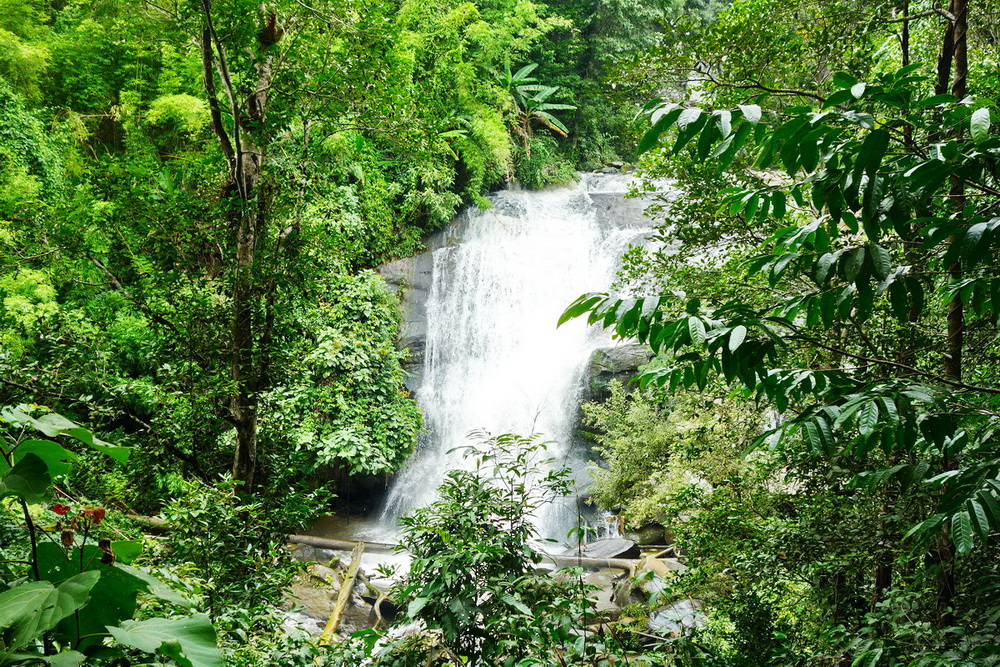 Sirithan Waterfall
One of popular waterfalls, at km 22, accessible by a 200 meters long trail from the parking area on the main road.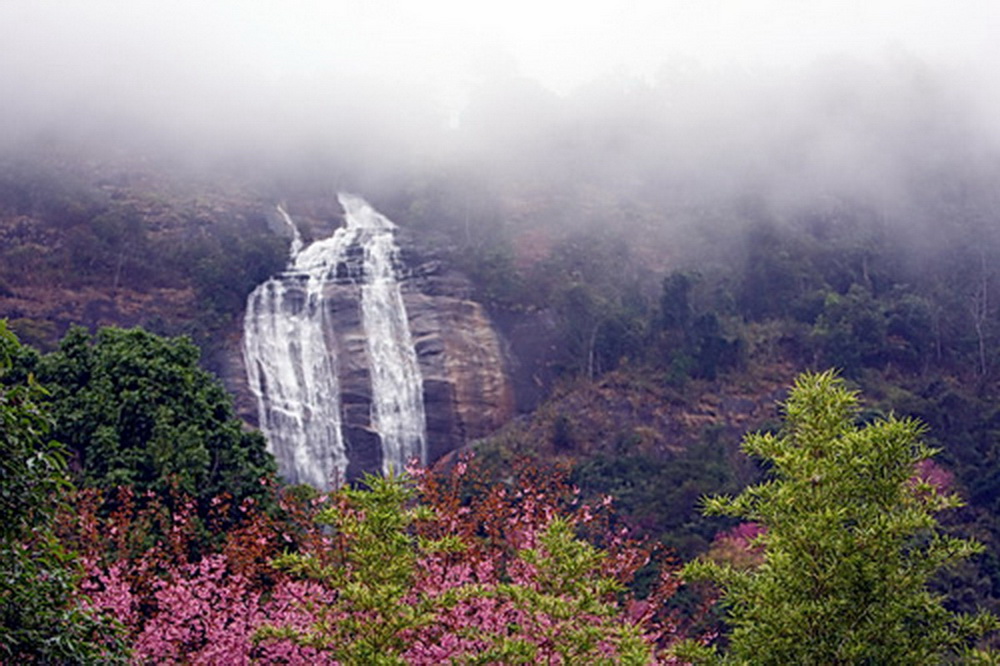 Siriphum Waterfall
Close to the summit you will find the slender white wisp of Siriphum Waterfall, which is usually less crowded than its cousins. The water level of Siriphum varies a great deal from season to season.
How to get to Inthanon national park
To get to Inthanon National park from Chiang Mai take route 108 towards Chomthong. Follow this road for 57 km (35 miles) and turn right onto route 1009 (Chomthong-Doi Inthanon Road). Follow this road for 31km (19 miles) and you will arrive at the entrance of the park (trip time approximately 90 minutes). Once in the park you can explore it on foot or in a vehicle. While the climb is tiring, it is a great way to experience the entire park. The ranger station at the entrance to the park is well equipped and can provide maps, guides and information on the park.
Admission: 300 baht for adults, 150 baht for children